our strategy
Our team of accomplished professionals can assist and educate you in the following areas:
Wealth Creation | Income & Wealth Protection | Equities
Employee Benefits  |  Estate Planning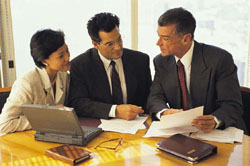 We have some of the most accomplished professionals you'll ever meet, all of them committed to providing personalized, responsive attention to your needs.
Working side-by-side with our financial representatives is an experienced, dedicated staff of administrative and client-service professionals, ensuring all your concerns, small or large, get handled by the right person at the right time. Whether they are finding the right resource at our agency to help you with a question, or tracking down one of your claims and getting it paid, we're proud of them all, and we encourage you to come in and meet our team!